Over the past 2 years, my wife and I have been using a service called Shipt for our "everyday" shopping needs. With a busy house and both of us working, we wanted to start outsourcing certain parts of our life to free up time and streamline certain mundane tasks (you won't see me out mowing my yard as an example). Shipt started over in Birmingham, AL in 2014 so – being a resident of the Atlanta suburbs – we got it pretty quickly.
What is Shipt?
I like to think of Shipt like an Uber version of a personal shopper. You start off with their app which is very easy to use (or their site online) and you go down the list of groceries and other items you need to buy. Shipt currently has access to several different store brands that may change depending on your area. Here is what we have access to:
Kroger
Costco
Target
Publix
Petco
Office Depot
CVS
This basically assures that everything we need from our 50 pound bags of dog food to daily groceries and even an Xbox controller can be delivered same day. Once you place your order, a shopper picks your order and fulfills the list. After they get through shopping, they drive to your house and drop everything off. All of the financials and tipping are handled through the app and the shopper has the ability to contact you with any questions they may have. It is a crazy easy streamlined process and has become the primary way we do any shopping for our daily items. As long as you spend over $35, the delivery fee is waved.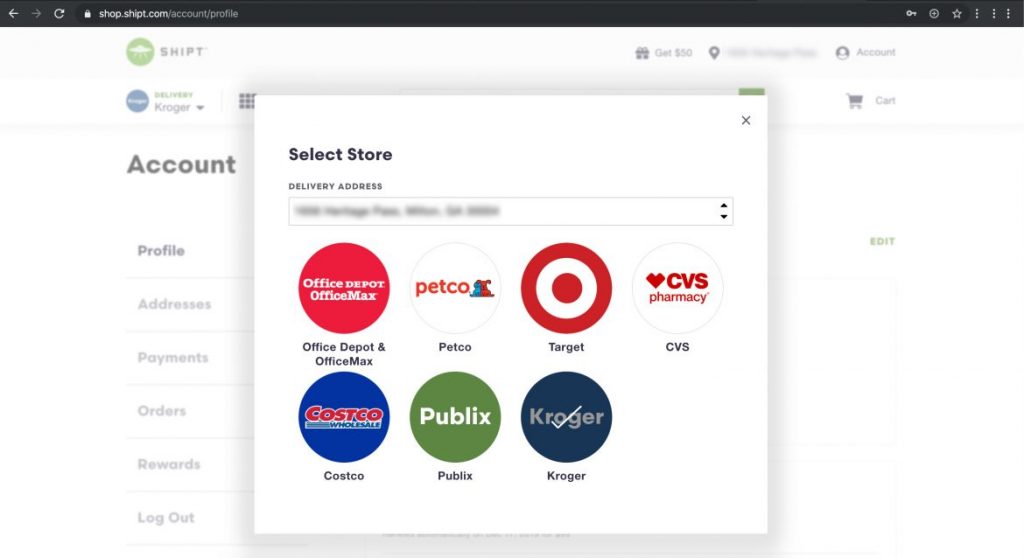 How much does Shipt cost?
Yearly cost is $99 (you can save $50 off of that by clicking here) or you can pay $14.99 a month. Then for your actual orders, this is what Shipt says on their website.
Shipt prices will vary slightly from in-store prices to help cover the costs of picking, packing and processing. Our members can expect to pay about $5 more using Shipt than they would on a $35 order purchased in the store themselves. When ordering from select retailers, a small service fee will be added at checkout. For example, a loaf of Wonderbread costs $2.29 in the store and $2.59 to have it delivered to your door using Shipt. 
From our experience that is pretty accurate but there is one crazy thing we found with our shopping bill overall that we were not expecting…it went down on a monthly basis.
Yeah I know that doesn't really make sense but we figured out what was happening. Apparently, there was a lot of our shopping – especially at the grocery store – that is what I would call "impulse shopping". I am probably more guilty of this than my wife but I am terrible about seeing something that was not on the list that I end up just throwing in the cart. Since those items were eliminated (and we really didn't need them anyway), the bill decreased.
The other thing we found is that our Costco trips were taking a lot of time out of the day. Costco is really worth it to us when it comes to things like paper towels, dog food or any other bulk item. Costco is a mad house and 15-20min away from the house. Now those items are just delivered which is a huge time save and some gas. As a bonus…if you live in a state where alcohol can be delivered…you can order that as well. Unfortunately for us in Georgia, that is not legal yet.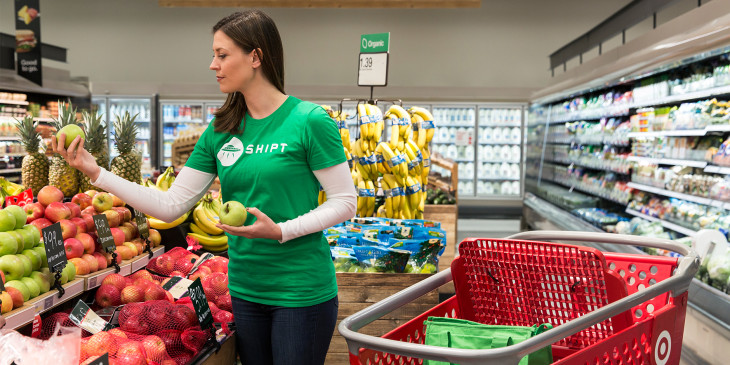 Overall Experience with Shipt?
Our experience with Shipt has been very positive. Their customer service has been fantastic and when you use it regularly you will find that the same couple of shoppers will end up picking your orders if they like you. This is especially helpful as there are far less questions and they will get to know your tastes.
Shipt does have a review system in place now that also fine tunes your experience. There have been a couple occasions that we got a bad shopper. They would not get things on the list or get wrong items. Through the rating system you can make sure that you do not get those shoppers again. That has happened very rarely but just like with any other program like this…it happens. I have had a couple of Uber rides that took that same direction as well.
I wasn't really expecting to save money using a service like this. I was expected – and ready – to pay for the convenience and time saving. The unexpected savings that we saw using Shipt has made it a no brainer in my opinion. It will also deliver where ever you are which has especially awesome on vacations. My wife was able to order food and drinks for a vacation we took in Florida from the car to have them delivered an hour after we arrived. That deleted one of the things I hate doing on vacation which is shopping for food. The only time I go to the grocery store now is when I want something special to cook for the night. For the monthly trips to Costco…those are done…and that is one less stress in my life.
Save $50 by clicking here to sign up for Shipt