As another installment of the home office and studio update…we need to talk about sound deadening. When I was looking for options to sound deaden the room without looking like I was trying to do that…the options were limited. I came across FeltRight and they agreed to work together and that is what you see here. So let's get into it.
My new home office and studio has luxury vinyl plank flooring and drywall. I could tell the second that I walked in that it wasn't going to work for audio for my office or for videos. A carpet was going to help with reflections but I needed another option that wouldn't take away from the overall look of the basement.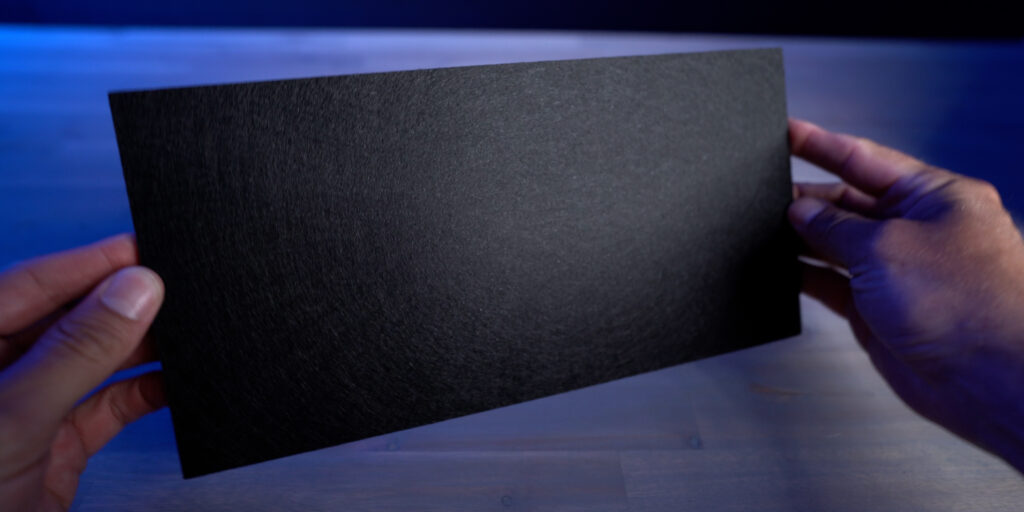 What are Felt Right Tiles?
Felt Right tiles are made out of plastic fibers produced from plastic. 60% of the material actually uses recycled water bottles which means that each 12×12 tile equals 4 water bottles that will no longer be waste. These felt looking panels are available in numerous sizes and colors to really transform your space while also providing a NRC rating of .35. This means that these tiles absorb up to 35% of reflective sound. For comparison, that is equivalent to one-inch thick polyurethane foam (a common sound- dampening material).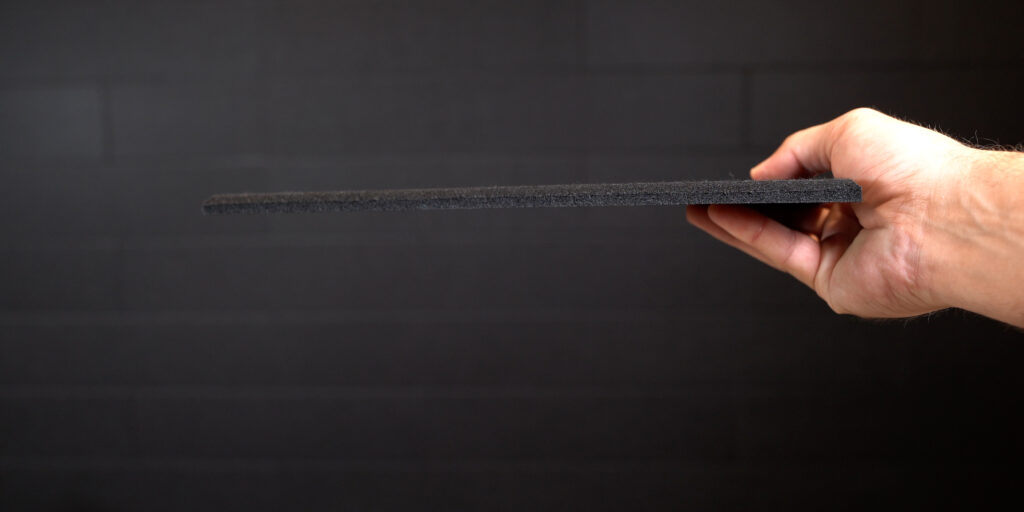 Felt Right Felt Tile Specs
Noise Reduction Coefficient (NRC) rating of .35
Every tile is made of 4 recycled water bottles
Edges fit together seamlessly
Soft texture looks like felt (hence the name)
Endless design possibilities
Panels are 3/8" (9mm) thick
Design and Install of the Felt Right Tiles
I'll be the first to admit…I was not creative here at all. If you scan Felt Right's Instagram, Facebook or website, you will see a lot of really cool and unique designs. Mine? Black in a shiplap design. I use this wall for a lot of purposes and I really liked my previous dark wood wall. However, I needed the sound deadening feature which led me to this design for my studio.
The Felt Right process starts off with their designer which is super simple to use. You can try some preconfigured ones or start from scratch. Once you enter in your dimensions, you get to designing off of the size panel and colors you want to use. When you are finished…you get a bill of materials that you can add directly to your cart.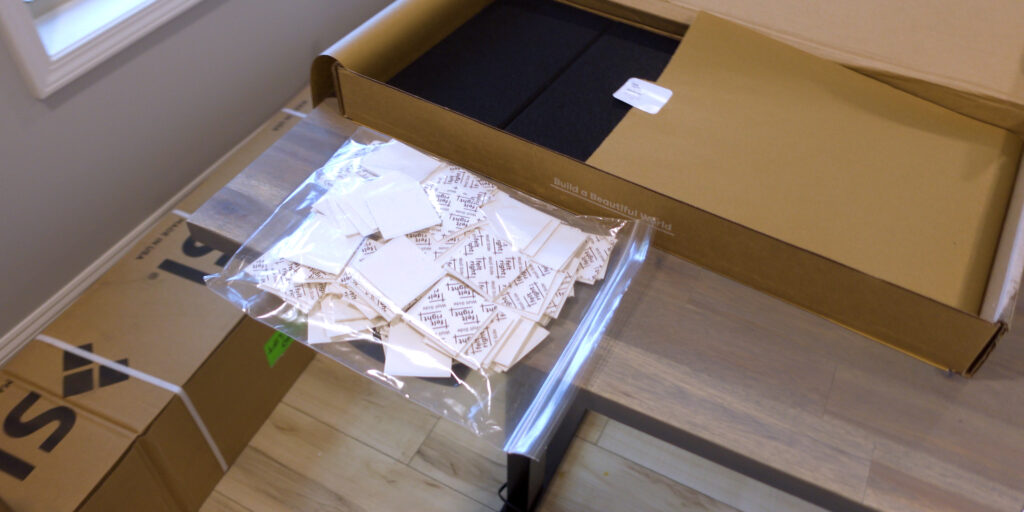 The panels show up on nicely packed boxes with a paper layout of how they should be arranged on your wall. The install is a super simple but tedious process of attaching each panel with a set of adhesive squares. Need to cut around a corner? Simple as well. All you need is a straight edge and a razor blade. That is really it. Other than time…the install takes really little talent…especially on a super simple design like mine.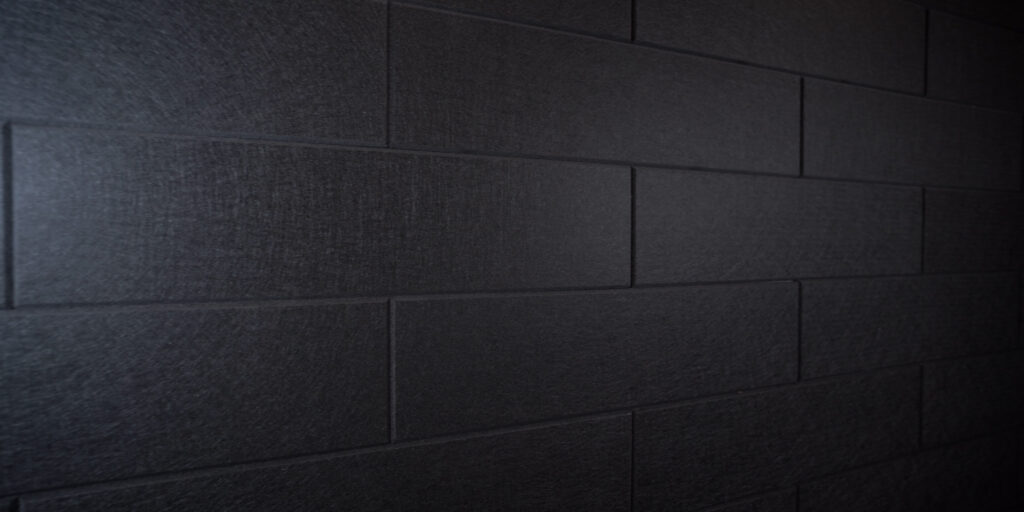 Felt Right Tiles…The Good
First let's get into the looks. I honestly thought the felt design might look too soft. While I can see it maybe being an issue on lighter colors, the texture actually looks great on natural light, overhead lighting and studio lighting. It doesn't look fuzzy. They just don't look flat and they are also soft to the touch. When you light them purposely, the edging and texture really shines and provides a great looking backdrop. They did an incredible job of keeping pretty perfect tolerances to keep everything lining up perfectly. There was not a single line where I had to work the panels into place.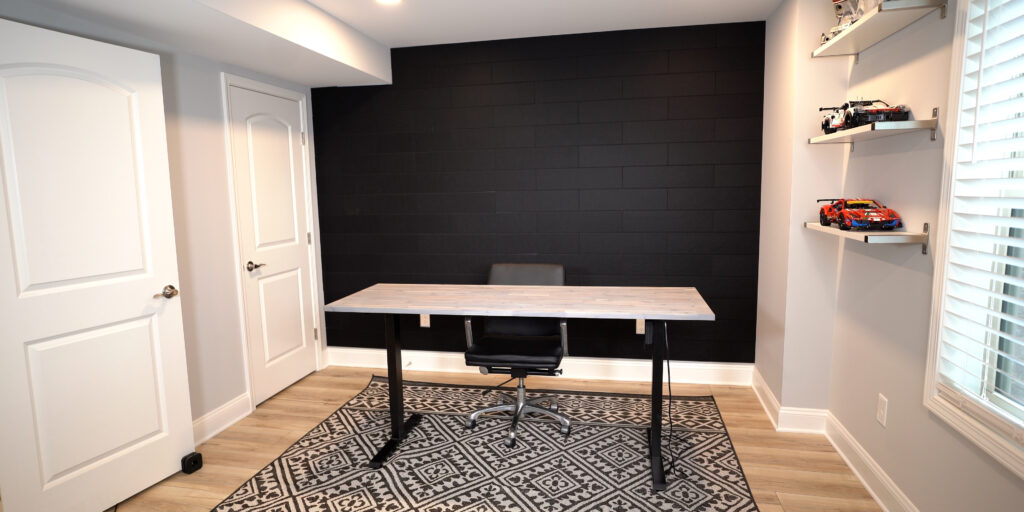 Performance? I could actually tell a difference in the room as I was installing them. I was obviously in a hard situation for audio so anything was going to help but this was the perfect option for an accent instead of just slapping up sound deadening panels. In an ideal situation, I would add more panels to the ceiling and side walls to really extract the best performance but I could tell a difference in the room instantly after install.
What I really like about these panels is how they transform the look of the room without looking like sound deadening. Yes…I could put thick panels on the walls or do foam that would be cheaper options. However…those don't look nearly as good and for a space that has to pull multiple duties, I really didn't want the performance to take away from the overall look of the room. We had a party recently and our friends didn't even know the accent wall was for sound deadening. They just thought it was an accent wall to compliment the space.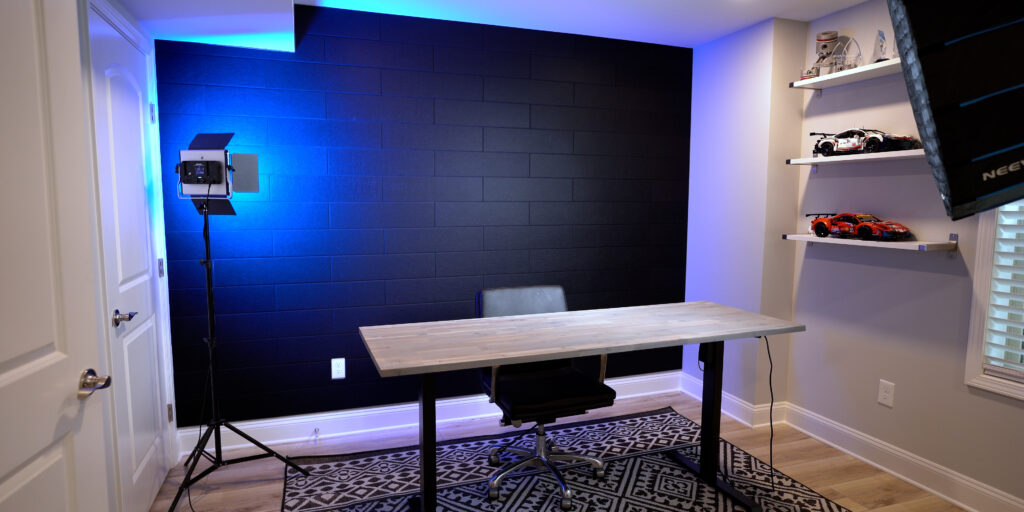 Felt Right Tiles…Any Drawbacks?
Well…it isn't the cheapest option. You can make your own panels and find other prefab options that are cheaper…even some with higher NCR ratings. That said, they look like sound deadening. So if you are in a dedicated studio and that is just a known feature? That will work. In my circumstance where I needed an accent wall that needed to have that function, this was a much better option. When I factor in the cost of an accent wall with the sound deadening panels, I am back to more than it cost for this wall with Felt Right.
Using just the adhesive pads in high humidity situations can be problematic. I installed these panels while the basement was still being completely and I did have several fall off. Not because of anything that Felt Right did wrong. The contractors left the outside door open and the Georgia humidity made its way in. These are not intended for outdoor applications so that made it so I had to apply extra pads to the bottom panels.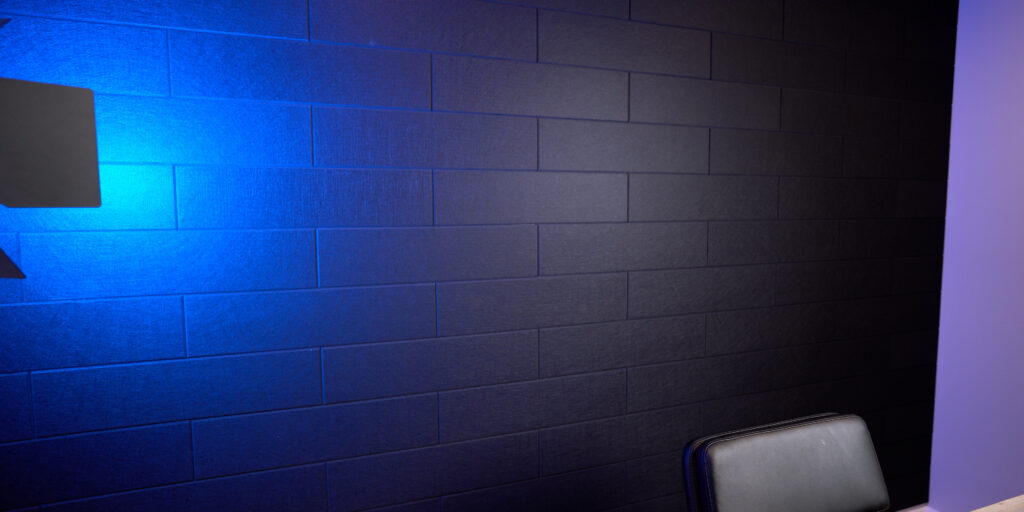 Overall Thoughts on the Felt Right Tiles
I am really happy with the way the look and performance of the tiles worked out. I can really see these working out well in office situations where you would want to get rid of reflections and add some style to the walls at the same time. There is literally no limit to what you can design to compliment the space. You are paying a premium over other options but you won't get the amount of customization that you can do with these. Add to that…you are helping the environment at the same time which is always a bonus.