So…awhile back I wrote a post about how I was about to have a baby and that was giving me a sensation of "I wants" for a Mitsubishi EvoX. As with most things in my life, once I get something in my head…I can't seem to let it go. It was almost a week after that when I started looking for a replacement car for my '07 Avalanche.
The Evo ended up being a no-go. I opened the trunk and there was only 6 cubic feet of storage space. Seriously?! Who in their right mind would be able to use that for even to-go food from a restaurant?
Well, it was back to the drawing board and I eventually ended up with a 2011 Subaru WRX hatch in silver that would carry multiple bikes for Bike198 and tote the kid around with the half a house we now have to pack with us when we go anywhere.
Those of you that know me…know I can't ever leave well enough alone, so I started hacking away at the car as soon as I got it. I don't even think it made it pas 500 miles on the odometer before it was modded.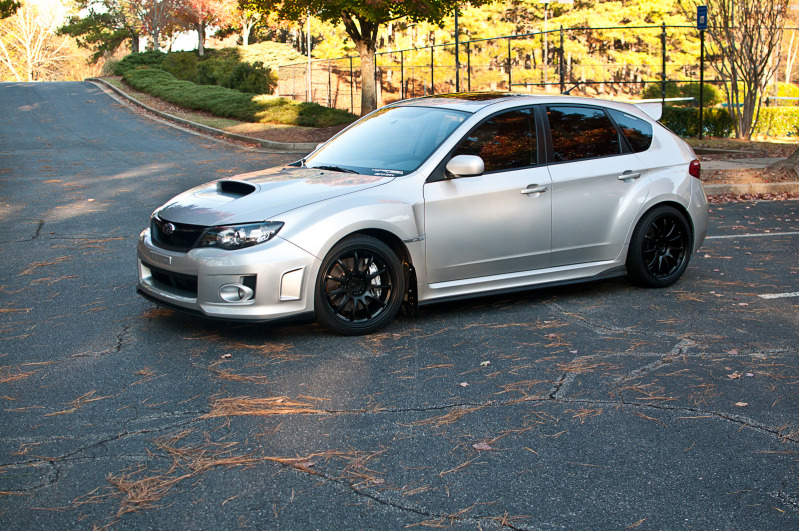 It has been a fun project to play with and get my mind off of things. Everyone needs a distraction and with my current injury to my back…mountain biking has been out of the question.
To make things even better…our new son Daniel loves it when we take him to the mountains in the car. While it isn't done yet, as it sits now, the car puts down 277 awhp and 320 tq which equals out to about a 4.6 0-60 mph and somewhere in the 11's in the 1/4 mile. While those stats are fun to look at, the real fun comes when the road starts getting twisty and all of the suspension mods start to come alive.
Next on the plate is to add more power and finish up the custom interior that JPM Coachworks is going to do for the car. Another one of those projects that never ends…but it is a blast to drive and it still gets the job done for every day life as an entrepreneur, mountain biker and dad.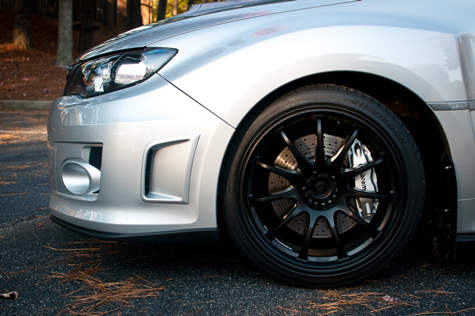 2011 WRX premium in silver with factory installed SPT exhaust.
Current Mods
Power/Engine
Custom Stage 2 Dyno Tune by TopSpeed in Alpharetta, GA
Cobb AccessPort
SPT Catback Exhaust
Invidia Catted Down Pipe
Exterior
35% Tint
Bi-Xenon HID Retrofit (4300k) with removed orange marker
Yakima Highroller 2 Bike Roof Rack
Debadged Rear and Grill
STI Front Lip Spoiler
Work Emotion 11R 18×9.5 +38 Flat Black
Hankook Ventus V12 255/35/18
Bayson R Carbon side skirts
Black Hella Supertones
Rally Armor Mud Flaps (black/silver logo)

Suspension/Misc
GTWorx Bilstein/RCE Yellow Strut Spring Combo
Brembo 4 pot front and 2 pot rear (painted silver w/black logos)
Kartboy STS w/Kartboy F&R Bushings
RaceComp Sway Bars F&R
Kartboy Endlinks F&R
Alignment: 0 Toe -2.5 Camber
Whiteline Steering Rack Bushings
Whiteline Anti-Lift Kit
Whiteline KBR Rear Braces
Interior
Sparco Milano Alcantara seats
SMY Gauge Hood
Prosport Boost Premium Gauge (white needle/red numbers)
Prosport Oil Pressure Premium Gauge (white needle/red numbers)
Red Illumination Kit
Pioneer AVIC-X930BT
Pioneer XM Radio
MOMO/Subaru Shift Knob
JPM Coachworks Short Throw Shift Boot (black leather/red stitching)
JPM Coachworks E-Brake Boot
Hertz 165XL 6.5″ Components (Front Stage)
Custom Fiberglass A Pillars for Hertz Tweeters
10″ Dayton HO Sub in Audio Integrations Box
Hertz HDP 4 Amp
JDM Radio Bezel
1080 3M Carbon Vinyl Overlays
To Be Installed
Custom Upholstered Interior and Seats
WL Rear Trailing Arm Front Bushings
WL Rear Subframe Bushings
Turbo Upgrade w/supporting mods