One of the biggest challenges in blogging is getting readers to keep coming back to your blog and creating a large enough call-to-action to get them to sign up for your newsletter and rss feed. I am a HUGE fan and cheerleader for newsletters and building your list as soon as you possibly can.
Even in today's internet environment, the email list is still king if you want to make any run at actually generating a sizable income online. All of the major players make a huge amount of money by providing valuable information their newsletter subscribers. An email newsletter is also the #1 way that new bloggers can get a significant amount of income even when they have a small amount of traffic. 100 targeted, attentive newsletter subscribers are much more valuable than 1,000 search engines visitors that may or may not stay on your blog.
One way to drastically increase the amount of sign-ups to your email newsletter is to offer something for free in return for that email address you so desire. This normally takes the form of a free ebook or e-course that is delivered to your reader in exchange for signing up for your newsletter subscription. There are several services out there that can accomplish this feat for you, but I have found that Aweber does the best job at providing easy setup and consistent delivery.
Now, as you probably already know, as part of RobbSutton.com, you get a free ebook (Ramped Blogging) and a free e-Course for signing up for the newsletter associated with this blog. I want to go over how to setup a free e-course at this time because it is actually pretty easy to do and you can start offering something like a free course before you even have an ebook! I set mine up in an afternoon to compliment the free ebook and provide more value to you guys.
How To Setup An Email E-Course In Aweber
First, you are going to need an Aweber account. Like I mentioned before, the value and consistency of Aweber puts it a cut above the rest, so I highly recommend them (sign up by clicking here). Once you have an Aweber account setup, you are going to want to go through the formalities of getting all the settings correct and creating a web form. There are several different kinds of web forms (on page, lightbox, etc.) so you can pick what best works for your audience.
Once you have all of that setup, you are going to want to create your first follow-up message that welcomes your reader to your newsletter. Within this message, you are going to accurately depict exactly what they are going to expect out of your newsletter.
Welcome to ABC.com's email newsletter and e-course. Over the next 7 weeks, you are going to be receiving your free e-course directly from me on a weekly basis. Be on the lookout for these emails and make sure you have news@abc.com whitelisted in your email account. Also, you will be receiving periodic emails from me with deals and other industry related news. blah blah blah…
You get the idea. You want to spell everything out right away so your reader knows exactly what to expect when your emails hit their inbox. This also helps with open percentages as your readers will have something to specifically look forward to!
Setting up the E-Course – What Should It Be????
Now you are ready to setup your email delivered course to your readers, but before you can even start…you need to know what your e-course is going to cover! There is one solid bit of advice that covers just about every successful e-course on the web…and it is the answer to this question.
What keeps your readers up at night?
If you can answer that question…and provide valuable information that helps you readers solve that problem…you have a successful e-course. Maybe you readers need to become better runners or want to cook better deserts or just want to live a happier and healthier life. You can setup an e-course that is "7 Steps to Living A Happier and Healthier Life". It is really that easy and it will create another huge asset to your blog.
Setting up the E-Course Emails
So you have decided on a solution for your readers and you already have an outline of the topics you are going to cover in your e-course. Now it is time to setup Aweber to automatically deliver those messages for you. Aweber makes this incredibly easy by setting up follow-up emails. As you create each new follow-up email, you determine exactly how and when those emails will be sent to your readers.
Let's take my Ramped Blogging E-Course as an example (you can sign up for that free e-course here). When I set out to create the Ramped Blogging e-course, I wanted it to be a 7 week, one email a week course that helped bloggers improve their blog and compliment the content contained within Ramped Blogging.

As you can see by this screenshot, I set up each email to deliver to my readers on a 7 day interval. This means that every 7 days, newsletter subscribers receive an email…directly from me…that contains that week's lesson. All of this is done automatically and is completely hands off once I had it setup.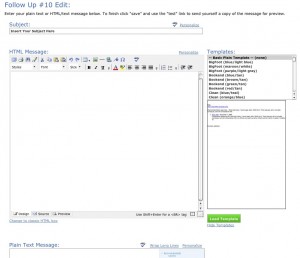 When you draft up your emails in Aweber, there are two options; HTML emails and text only emails. You need to fill out both fields as many people do not allow HTML emails in their inbox. By copying and pasting your email content into the text only field (be sure to type out any urls you may have embedded into the HTML version), you are insuring that all of your readers will be able to read your content.
There are templates you can load to give your emails a custom look, but I tend to keep things on the text only side at this point to make things easy to read in all outlets (web browser, email programs and cellular devices).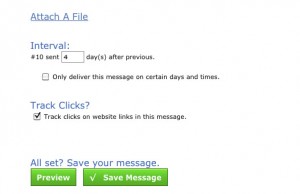 After you have drafted up your email, you are given several different options.  You can attach a file to deliver an informational product or other digital items to your readers as part of this part of the course (also used to deliver free ebooks for newsletter subscribers) and track clicks (very useful for observing reader behavior) in those specific emails. The interval setting determines when that email will be sent after the previous email in the sequence (in days). As part of the interval feature, you can also set the exact days and times that your emails are sent. Don't want your emails to hit their inbox on weekends? You can set it to only deliver on weekdays.
After you proofread…preview and save, you are live with your e-course. Rinse and repeat for the rest of your lessons and your e-course is on autopilot for every reader that signs up for your newsletter. It is really that easy.
Ways To Increase Open Rates With Your Emails
Part of the issue that every blogger has with any newsletter is getting your readers to open your emails. Let's face it…our email inboxes get bombarded with new emails on a daily basis which means a lot of emails get trashed or buried in the archives without even getting opened. So how can you make sure that your emails get opened by your readers?
Make Sure They Know What They Are Getting!
As mentioned previously with the first follow-up email to new subscribers…you need to spell out exactly what your reader can expect from your emails…specifically…the value. Are there going to be discount codes and coupons on their favorite products, valuable/exclusive content related to the niche or your e-course? Tell them right away so there is no confusion and you are put on their email radar.
Call To Actions
In my Ramped Blogging e-course, I actually reward actions my readers take by helping generate traffic to their blogs. Within each email, there is a call to action to perform something on their blog, and by completing that task…I do something to help generate traffic. This creates a sense of urgency to open the new email and it provides another valuable resource for my e-course. Win/win for both me and my readers.
Catchy Title
Titles are everything in emails and blog posts. Be sure to have clearly defined and catchy titles for your emails that do not look like SPAM.
Whitelist
Tell your readers to whitelist your email address in their email program. This will insure that your email does not hit the spam box when your newsletter goes out.
How Can I Make Money With My E-Course?
Now…there are a lot of bloggers that have a difficult time justifying the small price that Aweber charges for their service, so how can you insure that you make your money back (and much more)?
Note: This also applies to any general newsletter you might want to setup on your blog independent of e-courses.

#1 – Paid E-Course
You can make your e-course a paid service! Have a solution to a big problem in your industry and a high quality e-course that solves that problem? You can charge a fee for your e-course. A great example of this is Yaro Starak's Blog Mastermind course. It is delivered to your inbox via Aweber!
#2 – Affiliate Links Within Your E-Course
One of the most popular ways of generating income with your newsletter and e-course is to include affiliate links for products and services within the course itself. You are bringing added value for your readers and bringing in income at the same time. The best part…since all of the work is already done and it is hands off management…you are making money on a daily basis without having to touch anything!
#3 – Sponsored E-Course
Is there a company or service in your niche that would sponsor your e-course for a fee? By placing text ads in your e-course, you can bring in direct advertising income by delivering targeted exposure to your advertisers.
#4 – Link Back To Your Blog
Generate more traffic to your blog by linking back to relevant articles in your e-course emails. This brings more visitors back to your content…which…if you have your blog setup correctly…means more income on your bottom line!
Final Thoughts On E-Courses and Aweber
Whether you are looking to setup a standard newsletter or an e-course, starting your email list and providing something valuable in exchange for that email address (e-course, free ebook, exclusive content, coupons, etc.) should be a top priority for you as a blogger. If you really want to generate an income online (even with a small amount of traffic), you email list will be your key to success. Your newsletter email list will bring more visitors coming back to your blog and create a valuable asset that will bring your income from blogging to a whole other level.
If you are looking to try it out…Aweber does offer a first month promotion giving you all of their services for the low price of $1.00 for the first 30 days.
Sign up for Aweber and start making more money on your blog today by clicking here!