Since this is a personal site as much as it is one about everything else, I thought I'd give you guys an update on what I have been up to lately.
Talking about Blogging
Just this week has been crazy busy. I got invited to speak at a marketing/internet conference in Atlanta, GA in September. That should be a great opportunity and it looks like I am going to get my own hour…plus the chance to sit on a panel. If any of you ever get the chance to present at an event in your niche…I highly recommend it. Not only does it give you even more credibility to build on, but it is an incredible experience.
The eBook on How To Get Products To Review On Your Blog
I know a lot of you are really anxious to get this section of your blogging going quickly. I am working feavorishly trying to get this eBook ready for release as soon as possible. I keep on running into an excellent problem…more great content and ideas that I am incorporating today that bring in 5 digit product values! I know…it's crazy right now and I am going to share it all. It just takes time to get all of that information in one place. But it is coming…
whatannoys.me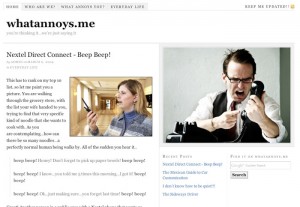 I was driving down the highway the other morning, and an idea hit me in the face like a wall of bricks. A driver in front of me was going the same speed as the person beside them…instead of the driver in front of them. All I could think was…"that annoys the hell out of me!" The whatannoys.me and whatannoys.us domain names came to me right away. I could have sworn they were going to be taken…but they weren't, so I started a new project! whatannoys.me is going to contain all of those annoying things we encounter on a daily basis. Everyone needs a place to vent and laugh at the same time. This one is going to be fun to watch.
Obviously…there are going to be changes in the current design to include a logo and custom touches, but for now…the Thesis theme is working out great for churning out content.
robbsutton.com
There is a new killer design coming from Justtheweb.com shortly. For those of you that don't already know, Justtheweb.com was behind the new design I released at Mountain Biking by 198. As the site continues to expand and offer more services, ebooks, etc…it will be imperative that the design reflects me and the content. Be on the lookout for one of the best designs I have ever seen on robbsutton.com.