Let me first…start by clarifying…I HATE CAR SHOPPING! What used to be a pleasurable experience in the pursuit of a new block of motorized transportation has become a game to many dealerships. They don't want to give you any numbers in regards to your large purchase. They…instead…focus solely on the payments; completely ignoring terms, interest rates, the cost of the vehicle, value of the trade, etc. Since my background is colored with numerous forms of selling in multiple markets…with the current position over 11 million on sales in the southeast…you can see my frustration when I am not given the raw numbers of the deal. I had a pleasurable buying experience at Rick Hendrick's Chevrolet dealership in Duluth, GA…but before I get into the that…let's get some prelims out of the way.

The Initial Fact Finding
When I went in pursuit of my new Chevrolet Avalanche to replace my beloved '03 Z71 Tahoe with 180,000 miles, I emailed all of the Chevrolet dealerships in the greater Atlanta area. I needed to get a feel where the quotes were going to end up and which dealership actually wanted to sell a car during these troubled times. To no surprise, one of three things happened.
No answer at all – Really surprising considering I put in the email that I was looking for immediate purchase. You would think that the internet department would at least come back with something…especially with the state of the car industry at this point in time.
An answer with no real answer – The typical…yeah we have some…come in and we'll talk about it.
An answer with a quote – Here is one that we have in stock that fits your needs and starts at $$…let's schedule a time to come in and talk about it.
I can understand not wanting to give a quote over email. You play a funny game there, and unless you are absolutely sure that you are the lowest price…it could shy away certain potential buyers. I took the emails, organized them and started the game.
Visiting Chevrolet Dealerships
After my emailing quest was complete, it was time to visit some dealerships to get a more complete idea of where I stand. This is normally the point I run into a large problem. I'll admit it…I look young. While this will be a great asset later in life, it does create certain obstacles that I have had to overcome in the professional world. Many times…to the fault of the salesman…I am not taken seriously. When we start to talk numbers, deals, etc., they often feel they can bully me around due to outside appearances. Note to all of you salesman out there…things are never what they seem and you never have the complete story.
The dealerships that did not take my large purchase seriously were x'ed off the list imeadiately. I do not have time to prove to you that I can purchase this Chevrolet Avalanche…I just need to buy one! If you are not taking this deal seriously…you are wasting my time and you will never see me again.
The second problem I had while visiting dealerships was fighting the Chevrolet dealership's desire to talk solely about payments. I have run into this a lot with other brand dealerships as well. There is a growing trend in the automotive industry to get you focused on payments instead of raw numbers. This is of great benefit to the dealership because they can then tweak all of their numbers to your one. Great for the dealership…not so great for the consumer. I want to see how much money over the next couple of years I am spending. If you can not show me that…I am leaving. At one local Chevrolet dealership, I actually got up to walk out before they would show it to me…
Rick Hendrick Chevrolet Experience
From minute one, John Fike at Rick Hendrick Chevrolet was on the ball. His emails were short and to the point and he also responded quickly and efficiently. This was a huge plus in my book instantly, but Rick Hendrick Chevrolet was the farthest dealership away from my target zone. Some things had come up in our personal life (as they always do) and it was making visiting Rick Hendrick a near imposibility. Luckily for them, I was having a hard time even dealing with other Chevrolet dealerships in my area, so when things calmed down…John's calm persistance paid off.
The wife and I headed down to Duluth, GA and began our adventure with Rick Hendrick Chevrolet. When you first walk into this Chevy dealership, it really reminds you of the way that car dealerships used to be, and that is a good thing. Smiling faces, Nascar hoods and a light atmosphere filled the area as you entered to purchase your automobile transportation for the upcoming years.
I met with John Fike and Alexis Maple (John is the sales manager and Alexis is one of the salesman there.) and we started to work out a deal. Once we determined the exact Chevrolet Avalanche I wanted…it was time to start the dance. This is where the surprise came…"Hey Robb…here is where we stand. This is the price of the truck, this is what we are going to give you for your trade in, these are the associated fees and here is an estimated payment based off of this estimated interest rate." What?! All of the raw numbers of the deal without having to ask for it?! Are you kidding me?! It was at that point in time that I made the decision to not deal with anyone else on purchasing my Chevrolet Avalanche. They had actually given me the information I was looking for…and most times had to threaten for…right away.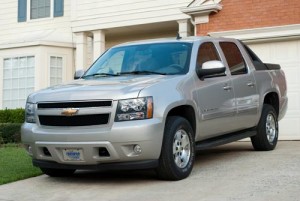 I will spare you the details of the rest of my experience with Rick Hendrick Chevrolet, but I will say this…it was one of the best experiences  I have ever had purchasing a car. We still had the typical back and forth of any car deal…that is just part of the game now, but it was done painlessly. The entire experience was very customer focused and it made the decision easy. Buying a new car is a large purchase and you never want to feel like you are being taken for a ride by a sleezy car salesman. Thanks to the crew over at Rick Hendrick Chevrolet…I am now in my new car. Say hello to my Chevrolet Avalanche in silver birch.
Thank you for making my truck buying experience a pleasureable one.