For a little while now, I have been testing out TwitSniper to find targeted people to follow on Twitter. One of the difficult things about Twitter is finding key people to follow in the hope that they will check out your profile, visit your site and decide to follow you back. In most cases, you are heavily dependent upon site traffic and word of mouth to spread your reach on Twitter. Your other option, using the search function built into Twitter, can be extremely labor intensive to get even several targeted Twitter leads.
TwitSniper looks to take all of this searching and following out of your hands and into this simple application. TwitSniper installs much like a standard installation of WordPress requiring that you upload the files and setup a simple database. You fill in a config file almost identical to the one that you find in WordPress.
Once you are setup, you find yourself in basically three different screens.
Accounts – Where you add your different Twitter accounts.
Keywords – Where you add in the keywords that the program uses as search terms.
Snipe – Where you select the account and keywords that you want the Snipe program to use for its search.
Once you have setup your parameters, you set TwitSniper follow a certain amount of people over the course of a certain amount of time. In other words, follow 100 people in intervals of 30 seconds.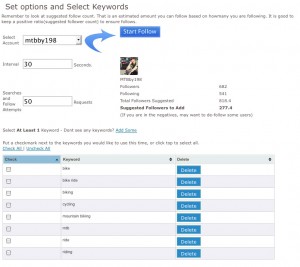 Once you hit Snipe, the program is off and running searching for the keywords you specified and following those Tweeters that used the keywords. Sounds simple right? It is!
Over the course of my testing, I have increased my Twitter following by 150 followers. Once the Tweeter saw that I was following them, they checked out my profile and followed me back. Ideally, this is the exact situation you are looking for. Now, you have reached another reader that may have never seen your profile, site or products. Better yet…it is a targeted lead based off of specific keywords that you specified.
Now…just like any other product out there, this should be used in moderation and not abused. I have been using this Twitter program very conservatively by only following around 25-50 people at a time. This also lets me monitor the results more closely and keeps me off the radar of Twitter for auto-following to many people at once. There is no penalty that I am aware of, but there is no reason to go out blazing the trail either.
TwitSniper carries a price tag of $77.00, so you need to weigh the cost vs. value for your site. If you are seeing income out of your blog and Twitter account, then using a program like Twitter Snipe is really a no brainer. Finding targeted leads in an efficient manner pays for itself over time. If you are just using Twitter to stay in touch with family, friends and random internet beings…then this program is probably not for you.