Over the course of the free 7 week Ramped Blogging eCourse (sign up at the bottom of this post), I have you guys submit content to me for promotion in social media to help out with traffic and web presence. Through this, I get to see some pretty cool new sites that are really starting to grow through hard work and action. From time to time, I am going to check in here and feature some of the sites that I think are really killing it. By doing this, you can apply some of the same elements in your blogging to see more success. While many of these blogs will be outside of your niche, there are fundamental things that apply to all blogs in the pursuit of the oasis of community and diversifying income streams.
Up on the chopping block is MikesBrewReview.com where Mike reviews beer and gives tips on home brewing.
Mikes Brew Review – Ramped Blogging Spotlight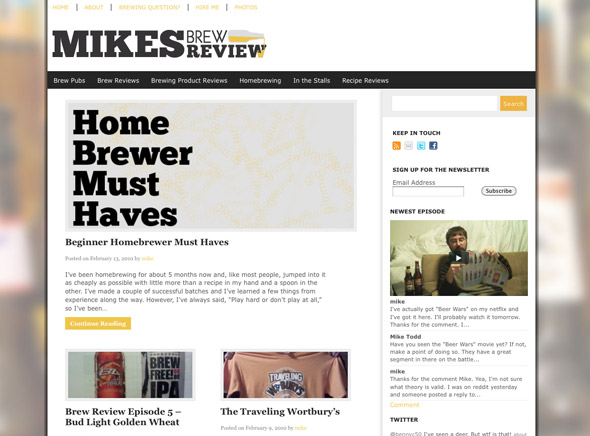 Mike really starts out on the right foot with Mikes Brew Review. The clean, relevant design is appealing to the eyes and fast loading. He uses a solid, distinctive logo that will separate his blog away from the rest in his field. The content and navigation is easy to access giving his readers instant access to what they want to dig through. While the design is not "light the world on fire" mind blowing, I believe it really strikes a cord with his audience and focuses on content. Mike's readership is not going to be a bunch of designers, so the simplicity is really going to help in the long run.
Since Mike has his name in the branding, it is vitally important that he brings his personality into the blog. He does this through is episodes where he records short video reviews of different beers. Instead of just a boring sit in front of his Flip HD camcorder, he brings his own personality into the videos like the one you see below. His ability to let his own personality shine through his blog is fantastic. I find myself watching his vids and I don't even drink anymore!
It is going to be really important that Mike continues to bring himself into his content to get that connection with readers of his blog.
How Is MikesBrewReview.com doing?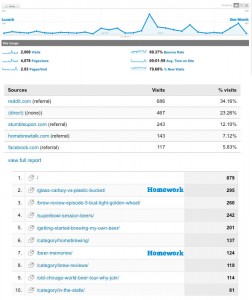 Surprisingly, Mike's Brew Review blog is only one month old as the article is published. Mike jumped on with Ramped Blogging early and as a result, his blog is off on the right foot and doing really well for its first 30 days of existence. Here are some stats to the right.
As you can see by the posts tagged "homework", the homework posts in Ramped Blogging really do help bring in traffic to your blog no matter how old it is. These are fundamental articles that breed traffic and community in your blogging that will bring long term positive results. By actually taking action after reading the emails, you can actually start to see things happen.
Mike really is doing a great job with MikesBrewReview.com and I am excited to see where he heads. I really see this blog increasing his awareness in his field to the point that he can be the Gary V of beer. Keeping up with the personality and solid content production while fine tuning his own brewing…and all of the sudden…Mike is going to have a successful micro brewery by attracting an audience and then selling his product to that audience. Is there a MBR IPA in the future?! In the meantime, he is getting to connect with people in his niche and reviewing some incredible beers. Doesn't get much better than that when you get to make positive life experiences out of your passion.
Some beginning issues Mike is going to come across is monetizing his new following. Some suggestions would be to use Amazon to review products that are needed to home brew (which he has already done one of via a Ramped Blogging homework assignment). By getting his readers on Amazon, he can benefit from commissions based off of any purchase they make after that referral.
After Mike starts to see a significant amount of traffic, direct advertising within his videos and on his site for micro breweries is going to be a lucrative avenue. Smaller to mid sized breweries are going to be a fantastic source for this income (ex. Sweetwater Brewery).
The biggest piece of advice I could give Mike right now is to keep the flow going. He has a fantastic start and is about 5 steps ahead of where most bloggers are at this stage in the process. Continuing to deliver that value and connection will be vitally important as the blog continues to grow.
Connect with MikesBrewReview.com
Sign up to be apart of the free 7 week Ramped Blogging eCourse below. You can also sign up for a blog consult by clicking here (this spotlight was not a blog consult…purely based off of what I had seen through Ramped Blogging).
What do you think of MikesBrewReview.com?