I headed up to Greenville, SC this morning to cover the US Pro Cycling Championships for my cycling website, Mountain Biking by 198. The day started off early at 6:00am with some of Jittery Joe's best coffee and a little over 2 hours worth of highway mileage ahead of me. I wanted to try to get to the Time Trial event a little early to capture the pre-race prep and the hand cyclist TT. So I made it up with a nice drive and picked up my press pass at the media tent.
Hand Cyclist TT Event
I have to say…the hand cyclist TT event was one of the coolest things I have see in awhile. Each of these athletes have been disabled in some for or fashion during their lifetime and instead of using it as an excuse…they got out and did something active. The reasons ranged from genetic, accident and even a couple of veterans. When you see something like this…it really reminds you what we are cable of on this world and we need to take more advantages of the blessings rather than what we do or do not have. Those riders are inspirational.
Pre-Race and Time Trial
I won't bore you with the details of the time trial as most of you are not as cyclist obsessed as I am (or my readers of Mountain Biking by 198). If you are interested in the results, watch my other site during the next couple of days for details. Shooting the event was actually a lot of fun. James Thomas from Bicycle Design and I were running around the TT course capturing the event and our press passes allowed us to get up close and personal with the riders. It was worth the trip to get up here and participate.
You can see some of my photos here —> Robb Sutton on Flickr.com
Tweetup – Blogger Meetup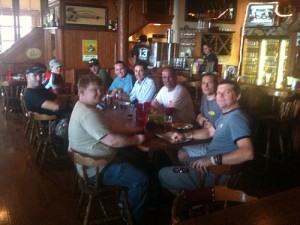 After the TT event, a couple of us online addicts got together for some post race drinks and food. It was great to put some faces with the names that I have conversed with over time. Developing stronger relationships with other bloggers is something that I really need to spend more time doing. Whether it be local events or getting out for more regional ones, tweetups/blogger meetups like this one are a great way to extend your network. No business talk really…just hanging out talking about what we all blog about…cycling.
So What Now?
Now…I am hanging out in downtown Greenville, SC eating some Mexican outside listening to a kid behind me make more noise than I thought humanly possible!!! I mean…seriously…he isn't even talking…just making noise! Anyways, I am going to hangout and watch the nightlife, blog a little and hit the sack because I have a early morning charity ride tomorrow. After the charity ride, I have to cover the Championship road race and then head back to Atlanta. Should be a busy day!