A little while back, I asked you guys why you blogged. It is a simple question really…with a more complex answer than "because I want to". Over the years, I have always said that blogging is truly unique because you can make blogging whatever you want to and that can change with time. Some people blog to share pictures with friends and family while others blog for a full time income. The spectrum is wide open in the pursuit of putting words on a screen.
Before we jump into the poll results and why I think they came out the way they did, I want to tell you guys why I blog.
Why Robb Sutton Blogs
My blogging career started due to one specific need.
I wanted to be a part of the industry I called home instead of just another rider.
In the cycling industry, there are several ways you can be "more involved".
You can own a bike shop. Owning a bike shop is lot of work with little pay, so it really has to be a passion with capital to invest in the process.
You can go to work for a bike related company, but I didn't want another job that would end up putting a sour taste in my mouth in something that I actually liked.
And…you can become a part of an advocacy group that promotes cycling.
Instead of going these routes, I started mtbtrailreview.com as a website that would gather user submitted trail reviews. Now, anyone who has messed around online for more than 5 minutes knows that user submitted content is an extremely hard thing to get even when you have traffic. Getting user submitted content when you don't have traffic is almost an act of God, so I started Mountain Biking by 198 (the blog) to funnel traffic to the trail review site.
Well…2 months in…the blog completely overtook the trail review site and we were off to the races. Now, Mountain Biking by 198 is Bike198.com with sub-domains for other cycling disciplines and the sky is the limit going forward as the site continues to evolve due to user feedback and future planning.
I tell you this story for one very specific reason. My main goal in starting a blog was to become a part of something and that is the driving force behind the growth. I see a lot of people start blogs with the passion to make money online and that is their sole driving force. What ends up happening? They end up making very little in the first 6 months and give up.
Blogging for an income is a by-product of blogging out of passion and the want of being a part of something bigger. This passion bleeds into the other aspects of the business (writing, promotion, etc.) and as people connect with that passion, you see larger traffic numbers, increased affiliate sales, increased direct advertising revenue, etc. Blogging (for the most part) is not driven by only monetary gain for successful bloggers. They actually enjoy what they are doing.
Bike198.com, RobbSutton.com, CoffeeObsessed.net…they are all my outlets to be a part of an industry I love. This passion, plus some smart business decisions and planning, is what brings the income over time. I didn't want another job. I wanted to write my own ticket on my own terms. Blogging is my outlet to get that accomplished and I love every second of it.
Why Do You Blog Poll Results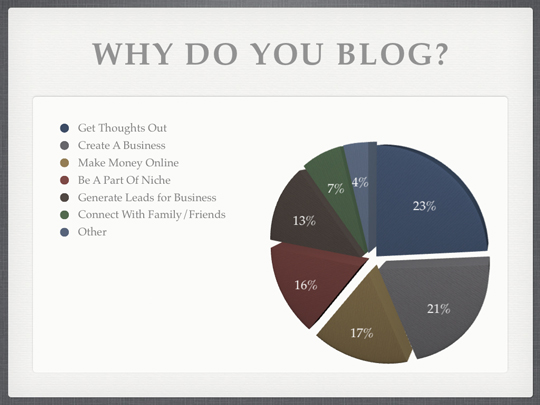 I am really pleasantly surprised by the results as they were pretty much what I was expecting with the top spot going to "A place to get thoughts out of my head! and "Creating a Business Online" and "Make Money Online" following suit shortly there after.
While there is a lot of focus on making money through blogging online, I believe that the #1 reason that most bloggers blog (or at least start a blog) is to share their thoughts and experiences with other people. Many of you do not care if you ever get to 100k subscribers as that is not your goal. Be careful though…it could be where you end up if people connect with your writing!
As time moves forward, I would expect to see the "Generate Free Leads for My Business" continue to grow and expand. As more companies look to social media as an outlet for business growth, blogging is going to be the natural progression for organic search engine results.
Some of My Favorite Comments from the Poll
Robb, I find that I blog because I want the opportunity to have influence with people. I'm not necessarily interested in quick money, but I'm highly interested in connecting and communicating with people. It's the community I love.