Yesterday morning, I got an email from an email newsletter I subscribe to over at IncomeDiary.com. The title of the email was "The 50 Most Influential Bloggers of 2009". Now…being a blogger that is obsessed with blogging, you know I was going to check this list out. I headed over to the site to find an incredible list of bloggers in a variety of niches that have all carved out a great name for themselves.
As I continued scrolling down the list, I got a HUGE surprise. Sure enough…#30 was me!
Now, I can't even begin to explain the feeling that rushed through my body as I saw my name in a list with those blogging powerhouses. It was a humbling experience for sure and it was exactly what I needed yesterday. You guys know as much as I do that we pour our heart and souls into our projects just hoping someone will notice. I am not special in this aspect as each and every one of you put everything you have into your blogs and businesses. When you get recognition from your peers for what you have accomplished through a lot of hard work, there is a fantastic feeling that warms your body.
I'll be honest…I almost teared up. I know…I am a big sissy, but when you put in the late nights…weekends in front of a screen…hours and hours of content generation and promotion…it just feels good when other bloggers in the industry notice. With the help of you guys and my readers on my other blogs, I have been able to accomplish a lot in a short amount of time and I owe ALL of that to you guys. Thanks from the bottom of my heart for supporting my sites as we move forward and create successful blogs.
NOW! There is a flip side to being on this list that motivates the hell out of me! I now have another rabbit to chase. Like any highly competitive, business owner…I want to move farther up the list! Goals are a great thing that will motivate you beyond your wildest dreams, so now I have to put in the effort and work that will further promote my sites to get to a whole other level in blogging.
You can check out the entire list by clicking below. It really is an incredible resource of successful bloggers…so check it out when you get a chance.
The 50 Most Influential Bloggers of 2009
Ramped Blogging – The Ultimate Blogging Guide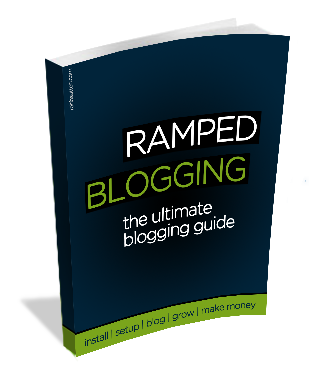 So what is my next step? If you have been following me on Twitter (@robbsutton), you already know about this project I am currently putting together. If everything goes according to plan, it should be ready for release next week and we will be off to the races creating very successful blogs.
I am taking a little bit of a different approach with Ramped Blogging than most of the other blogging eBooks on the market (and we all know there are a lot of them). Ramped Blogging is going to be targeted towards brand new "I have no clue what I am going to write about" bloggers all the way to experienced bloggers looking for ways to promote their blog and make more money off of their content. For that reason…it is LONG. With 2 of the 3 sections complete, I am on page 97 and rocking, so this is going to be a very comprehensive eBook that will take anyone…regardless of blogging experience…through all stages of successful blogging.
When I sat down and brainstormed this project, I knew it was going to be a huge undertaking, but I wanted to really release an eBook that any blogger could use and see immediate results by implementing the steps in the book. A large undertaking but I believe I have done it.
Now…how much is this baby going to cost you? NOTHING! In all of my insanity…I am going to release every single page of this eBook for free to newsletter subscribers. I know…its crazy but my goal is to help as many bloggers as I can and giving it away is the only way to get that accomplished. Of course, like any good business owner, you are going to have to sign up for my free newsletter, but I don't spam and send worthless info you don't need. So we should all be ok with that.
I'll keep everyone in the loop and if you are already subscribed to the newsletter, you will receive an email next week with the download details. Who knows…this eBook might just help you get on a list with names like John Chow, Darren Rowse, Gary Vaynerchuk, Collis Ta'eed, Brian Clark and more…