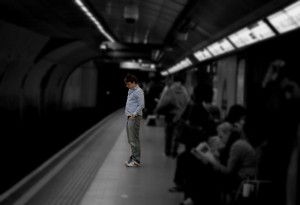 Image by welshwitch36

2009 is going to go down in history as the year that standing out from the crowd was the most important asset that equaled success. With struggling world economy, workers are looking for new ways to express their worth to firms and themselves in search of the recession proof income stream. How are you going to make sure that you stand out amongst the many in 2009?
The Interviewee
With a flood of potential employees to the job market due to massive layoffs globally, it is more important than ever to make that interview, resume, cover letter stand out from the sea of potential hires. What in your background makes you a more valuable asset to a potential employer? What can you bring to the company that Joe Smith can not? These are questions you need to be asking yourself as you move forward through the process.
The fact remains that 1/2 or more of the searching workforce probably did just a good enough job to stay employed. Because of that…they were the first on the chopping block for layoffs due to not standing out to begin with. The rest of the searching might not have been able to control their situation and doing a great job just wasn't good enough. You need to make sure you are not just another number but a specific name with specific assets that create returns. Hiring is a huge investment…stand out by featuring what you do best, and once you get that position, fight to keep it by going above and beyond.
The Employee
As stated before, the majority of the workforce does just a good enough job to get by and collect a paycheck. Are you going to be that employee in 2009? That employee will be the first laid off or to receive a pay cut. This is your time to stand out and really show what you are worth. Fight to keep your job instead of running scared of losing it.
Now…more than ever…it is important to stress how important it is to you that the company thrives during the rough times. Every sale, every savings every day you push forward will show huge returns on the backend as you keep moving forward when others are stagnant. Keep pushing for that next deal or idea that will make the firm more efficient. You will see larger returns in the future and…more importantly…your job depends on it.
The Internet Entrepreneur
With a struggling economy, the low cost of entry to the internet marketing world brings a flood of new websites, blogs and marketers with dreams of one day living the dot com lifestyle. Many of them are even looking for supplemental income to bring them through the rough times.
How are you going to stand out amongst all of these new sites and keep things rolling? Carve out your niche and find your voice. You need to be willing to grow and write when no one is listening. Most of these new entrepreneurs are going to fall off the map in the first month when their new adventure fails to show any return after a large amount of personal effort. The writer, blogger, marketer that pushes through the slow time will make it to the light at the end of the tunnel as long as they give it enough time to actually work. The internet…just like any business…does not show a massive return overnight, you have to work for it.
The 2008/2009 Recession
Many people throughout the world will use this recession as an excuse. They will blame politicians, employers and anyone else they can for their spot in life. I see the recession as an opportunity. It is an opportunity to think outside the box and come up with new and inventive ways to live our lives. Not everything has to be negative, we can use our experiences from today to learn what we need to accomplish tomorrow. The harder we work during the slow times, the greater returns we will see when times turn around. Use this time to build something of your own and carve out your spot in the world. You will be glad you did.