Being a regional sales manager for a number of years required that I travel…a lot! When you are on the road, the last thing you want is to stay in some creepy, roach infested hotel in your quest to make a little extra coin to bring home. When hotels were plagued with the inability to provide consistent sleeping arrangements across the country, Hilton Hotels launched the Hampton Inn chain.
For those of you that don't travel a lot, a Hampton Inn is the same whether you are in east bumblefuck Kentucky or New York City. No matter where you are traveling, you are almost guaranteed to find a Hampton Inn that you can count on to provide you will sleeping arrangements that will fit your needs away from home. For me…Hampton Inn's are my home away from home…
What do you get at a Hampton Inn?
Reasonable price
Super clean rooms
The same shampoo, soap, towels, bed, snack and layout at every hotel.
Friendly staff that is in the same uniform
Free breakfast that is good enough to get the day going
The same coffee at every location
A decent points program that you can redeem for free nights
Thousands of locations so that you are never left stranded in a roach motel
This consistency is what the Hilton brand built the Hampton Inn around. Now, hotels like Holiday Inn, Marriott and even competing Hilton brands are struggling to catch up in pursuit of the one size fits all hotel option.
So what does the Hampton Inn have to do with blogging?
Consistency.
When readers visit your blog, are they getting consistent quality that they can count on day in and day out?
Have you built your brand around a central idea that will bring back readers time and time again?
Is your design inviting and feel like home or harsh and unorganized?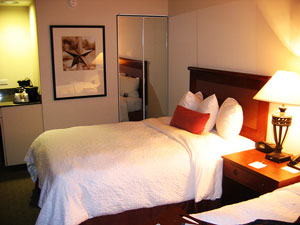 By using a model much like Hilton has with the Hampton Inn, you can start providing consistency that readers will depend on. Once you have readers depending on your blog for information related to your niche, you have created a loyal following that will grow exponentially with time. The more you shape and develop your brand into something that your readers can call home, the more growth you will see.
I have seen many blogs start with the big dream of becoming a pro blogger only to fall short when posting inconsistency puts off readers. They started with high quality content and then when they didn't get instant results…they started putting up less content with smaller value as interest faded. Are you going to let your blog die a slow, meaningless death by being inconsistent?
How can you start being consistent and dependable with your blogging?
Here are several ways that you can be consistent with your blogging…
Publish high quality, useful content that engages your readers (should be a given).
Start a posting schedule and do your best to stick to it. This can be daily articles, bi-weekly, 5 articles a week…whatever…just pick something that works for you and stick with it as best you can. The more consistent you are…the better.
Have a clean blog design that is inviting with light or neutral colors. Typically, dark backgrounds with white text hurts your eyes on high contrast screens. You want your blog to appeal to your readers, so make sure that your blog design does not distract from the content.
Focus on the little touches that separates your from the pack. The Hampton Inn gives you a bottle of water and a snack for return visitors (I have even received a couple of hand written notes from time to time). What can you do to create a little bit of extra value and interaction? Somethings I have done in the past are personally emailing regular commentors, responding to comments, asking for feedback, throwing giveaways for newsletter subscribers…all of these are little added values to your blog.
Your focus as you grow your brands has to be consistent quality that your readers can depend on. Blog readers are looking, bleeding and begging for a place they can call home. Is your blog inviting and consistent enough to attract new blog readers and get them to hang out, comment and contribute? If it is not…you need to focus on ways that you can bring that consistency that you depend on through other resources in your life to your blog. Through consistency and high quality content, you will see success…