I have heard the same broken record over and over again…"content is king, not your design". Normally, the same blogger that is screaming this tag line to the heavens is the same one using a base Thesis Theme and their plain white space is failing to attract subscribers and income. While they got part of the equation right (a blog is nothing without valuable content that people actually want to read), your design is how your audience interacts with that content outside of a feed reader or email. Your conversion rates, blog income and image as a blogger are all handled through your design and how your readers interact with that design.
As you go through the process of fine tuning your current design or redesigning your blog, I wanted to give you some examples of blogs that I use for design inspiration and why. Now…keep in mind…once you throw a design on the screen, your readers are going to tell you what works and what doesn't by how they interact with the elements. Just because something looks really cool…doesn't mean it is worth the screen real estate. Always test and retest elements to see what performs the best for your audience.
The following blog designs are ones that I used for inspiration in my design work.
Tutorial9.net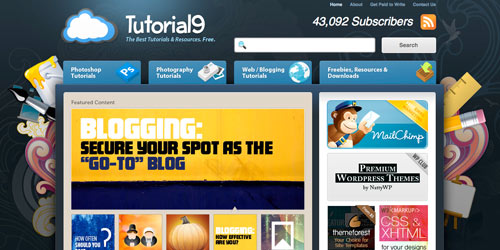 Tutorial9.net not only has a great overall look and feel, but David Leggett did a great job at structuring the content in a way that is easily accessible. Tutorial9 can have several different readers all looking for a different section of content, so David structured a very strong navigation so there is zero question on where you want to head. You can really see David's design background in the blog as everything is very visually appealing.
IncomeDiary.com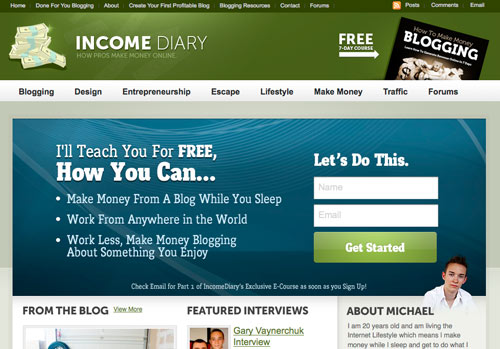 Michael Dunlop's IncomeDiary.com may not look incredibly unique from a design standpoint (uses a WooTheme with a custom designed homepage), but the overall function of the site is very well developed. With every aspect of the blog carefully planned, IncomeDiary.com is a converting machine. As you click through the site and articles, take a close look at each of the elements that make up the content and sidebars. Each of them are carefully laid out with a specific goal to convert readers into successful bloggers while also bringing in income to the blog.
WorkAwesome.com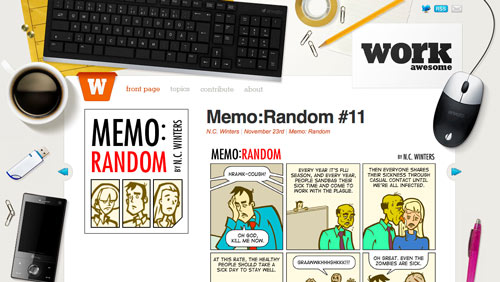 WorkAwesome.com has a feel on the site that directly correlates with the content. You actually feel like you are at a working desk as you read content that will help you work awesome.
Tutsplus.com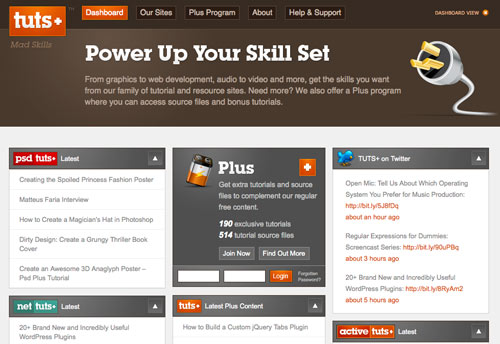 The Tutsplus.com network from Envato is HUGE. The clean design and the way Collis Ta'eed structured Tutsplus is genius. Not only do they have possibly the largest blog network on the net…but they present all of their valuable tutorials in a way that is easy to digest with a clean, hardened design. I will actually be structuring the new Bike198.com using the same sub-domain/similar design with different colors theory.
GoMediazine.com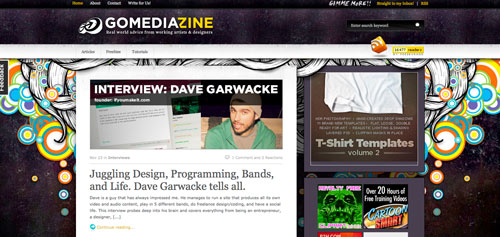 Another great example of how you can take a standard premium theme and really make it your own. GoMediazine uses some overlapping CSS elements and background image work to the elements to make the Fresh News theme from WooThemes look really unique. For those of you that think you have to have thousands of dollars to have a unique blog, GoMediazine is a prime example of how a smaller budget can turn an impressive design.
Koodoz.com.au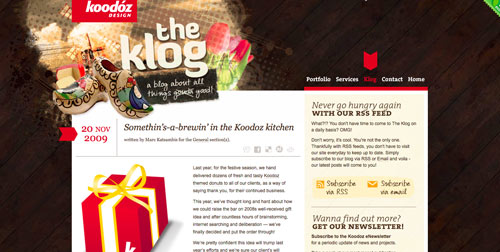 Koodoz.com.au is really just another great look and feel site that fits the brand. I have seen this blog on several other design lists in the past year, and – while it may not seem incredibly special – the design speaks directly to their clientele with a brand image that oozes who they are through a clean and welcoming design.
Yoast.com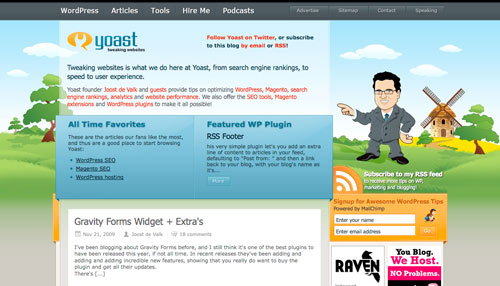 Yoast.com is a great example of how to personalize a blog. Joost de Valk's blog portrays him as a person and WordPress/SEO blogger with a welcoming message and illustration of Joost himself. The clean layout and structured elements also play well into his WordPress coding and SEO background without being impersonal and harsh.
Colorburned.com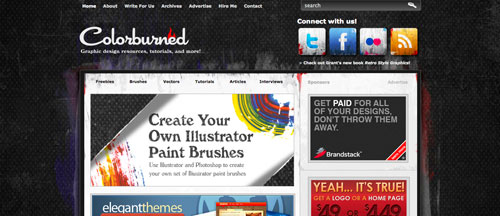 Colorburned.com is a great example of carrying a theme throughout the design. They take the rough, grunge elements of the design and bring them to every aspect of the blog for a very unified look and feel. Sometimes we like to focus on one section and forget that the entire site needs to work together seamlessly. Colorburned is a reminder to keep the theme rolling throughout the site.
blog.thepixel.com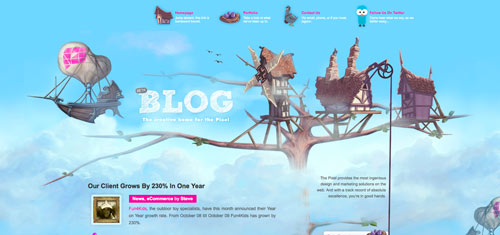 ThePixel.com is an incredibly unique blog design that carries the theme all the way to the footer in a seamless design. It also has to be one of the more unique blog designs I have seen and it works perfectly with their message.
ZenHabits.net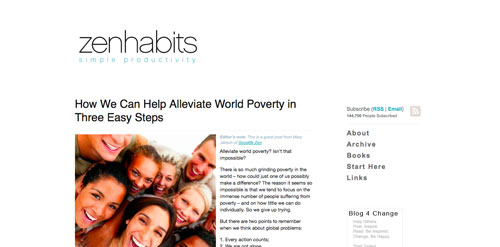 Not all designs have to be colorful. Leo proves that you can still do it right with simplicity at ZenHabits.net. However, it 100% completely fits the message on his blog and that is why it works. I think a lot of people see how successful zenhabits has been with an extremely simplistic design, but – remember – his tagline and blog message is "simple productivity" so a colorful, involved blog design probably wouldn't work for his readers.
Which blog designs do you use for inspiration?
As you visit your favorite blogs, what aspects of those sites inspire you to test out new elements and designs on your blog? As you can see from this list, it is not always the 100% custom design that can catch a readers eye and convert them into a subscriber. A well thought out customization to a premium theme can accomplish the same result when done correctly.
Are there any other blogs that you would like to see on this list?