Today, I want to point you in a couple of different directions. First, Corbett Barr from Free Pursuits and I did a guest post swap between my site and his. You might have read his guest post "So You Blog, So What?" already on this blog, but if you haven't…check it out as he had some great things to say. My guest post on getting out of your own way to realize blogging success went live yesterday on Free Pursuits and it has generated some great conversation around blogging and building a successful blog over time. Take a minute today to head over to Free Pursuits and check out my guest post along with the other articles Corbett publishes on a regular basis. He is a true believer in designing your own lifestyle and his articles can really help you design your own life.
Video Podcast with Tyrone at Internet Business Path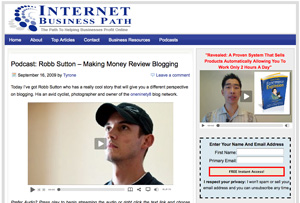 The second site I want to shoot you over to today is Internet Business Path. Tyrone and I did a recorded interview about blogging, review blogging and getting free stuff into review on your blog. We went into depth into how you can really monetize your site through product reviews and use those same product reviews as a huge traffic generator. In the 34 minute recorded conversation, you will find tons of information about blogging from both or our perspectives. The interview was a blast to do, so when you get a minute…head over to Internet Business Path and check it out.
If you want to see the same results out of your review blogging, check out my eBook…Ramped Reviews…that spells out how you can see the exact same results I have with getting in free product to review on your blog.