If you have Google Analytics installed on your blog and you are keeping track of your traffic statistics, you are probably noticing that the amount of visitors you are getting from mobile devices is on the rise. As data plans get cheaper, people get busier and the iPhone continues to conquer the world, this traffic stat is going to continue to rise as time goes forward.
The browsers on many of today's mobile phones are pretty advanced and they have come a long way over the past couple of years. Cell phone web viewers can now see most of the functions on your blog just as they would on a regular computer, but on a little screen that is going to require more zooming and scrolling. Our job – as the blogger – is to make our content as easily accessible as we can for all readers, so what can we do to make this process easier on mobile phones? And more specifically – iPhones and Blackberry devices as those are the two most popular smart phones on the market.
WPtouch iPhone Theme – Mobile Theme Plugin for Wordpress
Luckily, there is an easy plugin for Wordpress that handles all of your mobile browsing for you. While you could have a developer code up a theme that would show to your mobile visitors, WPtouch iPhone Theme takes all of that work and does it for you via a free plugin for Wordpress. Better yet – it has customizable options where you can insert your own logo, change the background and change the settings to customize your blog theme on mobile devices. The picture below shows how robbsutton.com looks on an iPhone before the plugin and after.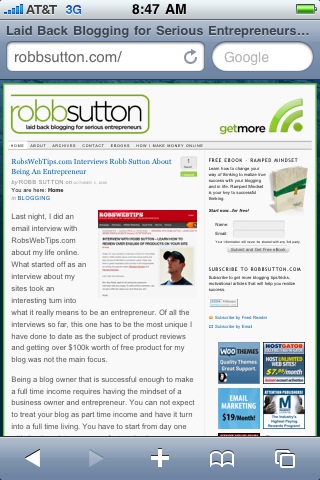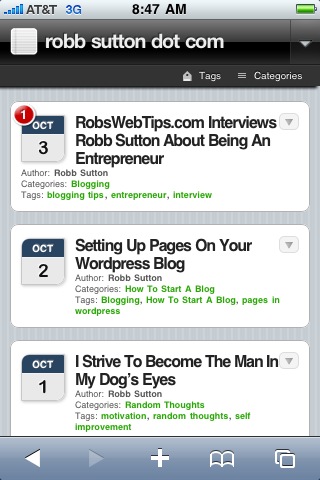 As you can see by the pictures, your content is much more accessible through mobile devices just by installing and activating this simple plugin.
Note: I did not change a single setting as of that mobile theme picture. That is how your website will show on mobile browsers with all of the default settings in tact.
What some more good news? All of you commenting, Google Analytics code (has to be inserted into the settings panel of the WPtouch iPhone Theme plugin), Google Adsense (again – has to be inserted via the plugins options panel) and most of the popular plugins you are already using are functional with this plugin. Even the Disqus commenting system I use on Mountain Biking by 198 is supported!
The WPtouch iPhone Theme plugin for Wordpress is one of those must install plugins if you want your readers to be able to consume your content efficiently on their mobile devices.