In the blogging world, there is a ton of focus on social media, content and online promotion techniques. While all of this is fantastic information that can grow your blog and income over time…at some point, you are going to want to extend your blogging that you are running as a business into an area that many bloggers are scared to death of…the outside world.
Yes…creating your own digital products and promoting others is great and highly lucrative as a blogger…watching the cash roll in off of direct advertising and PPC campaigns can create great recursive income…but what happens when you want to step beyond that? What do you do when you want to expand your business into the lives of your readers? When you do want to stop being just a "blog" and start being serious competition for brick and mortar companies and publishing firms? You are sitting on one of the biggest launching platforms on the market…so it is time to take advantage.
Stop The Fear Of The Real World Products
The first thing you have to do as a blogger is get rid of the fear of the "real world". Yes, creating products outside of digital goods takes a lot of time, research and effort, but the feedback and results can extend past your wildest dreams. The trick…find something that you can tackle and work with easily without taking on too steep of an upfront cost.
The nice thing about digital goods is the only cost of entry is basically your time. While you can get expensive with designers, coders and ghost writers, most successful digital products are made in the home office of the blogger. With real world products, you have to rely on manufacturers or other companies to work with you to make the dream happen. For this to ramp up…you need some cash to get the ball rolling before you can make your first dollar. This…on its own…scares away most bloggers from even trying.
The #1 thing you need to realize about stepping into real world product lines…you can raise the money upfront to get rid of the capital generating fear.
By having pre-sale deals (offering a discount for getting in on the first order), you can raise the money necessary to create your first order for just about any product you want to sell. Not only are you giving your readers a great price (that you still make a percentage profit on) but you do not have to step into your earnings to put in the cash for the first order. By removing this fear of money loss, you can make your first step into real world product markets.
How To Enter The Real World Product Market
When you are looking to expand your corner of the web into the daily lives of individuals in your niche, you need to start looking at what they are buying that you can provide outside of the digital world. In the beginning, you are going to want to locate markets with lower cost of entry points to get your feet wet. As with all things on RobbSutton.com, I find that the best way to show is through my own personal experience, so let's take a look at what I am doing with Bike198.com to give you an idea on where to start looking.
In the biking community, I started looking for avenues in which I could not only promote my brand, but do so while also creating and fostering community. The natural progression given these parameters was to step into soft goods. Now…soft goods (t-shirts, etc.) is one of the #1 ways bloggers start the transition into real world market places because of the low cost of entry and the ability to promote your brand at the same time.
My first step into soft goods happened at the beginning of the month with the release of the Bike198 cycling jersey's and shorts. To create buzz and a willingness to participate on the behalf of my readers, I also worked with the Livestrong Foundation and half of the profits of the kit sales are going to get donated for cancer research. I didn't want it to be just another "website kit" so by incorporating the Livestrong Foundation, we are able to make it something bigger.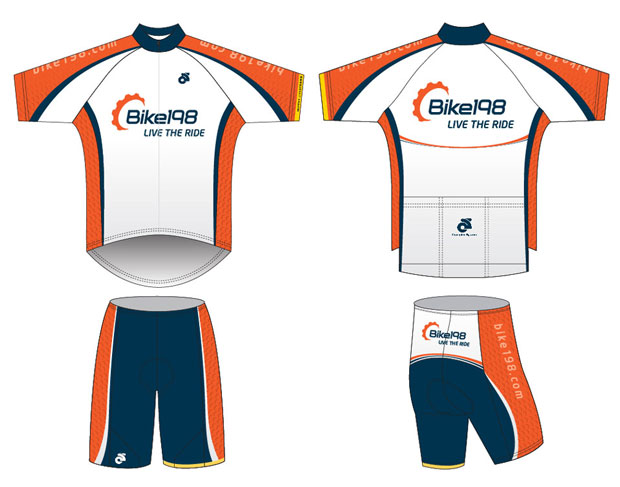 Luckily, I have a friend of mine that is a kick ass designer that offered to help with the project (regularjoe), so the end result is incredible. The pre-sale process went great and we were able to meet the minimum order requirements easily to get the process started and get some kits in to take pictures for promotional materials.
The next step, start up the t-shirt line that I have had in my head for a long time.
Fringe Benefits Of Real World Product Sales For The Blogger
Now…the monetary side of releasing your own products is an easy concept to get your head around. You sell the product, pay your costs and keep the profit. But…the real benefit to releasing physical products into the marketplace is much harder to measure.
What do you think happens when riders wear a Bike198 jersey or t-shirt and hit the trail? They spread the Bike198 brand to new riders and potential readers.
What happens when their picture is taken and posted on a forum? Same result on a bigger scale…
What happens when cycle sells more t-shirts and jersey's? The results multiply like crazy…
By creating products that your readers want to buy, you are strengthening your brand into something much bigger than just a blog. You are also strengthening the overall trust in your brand to deliver the goods because you are now perceived as more than just a blogger releasing your ideas. You are now a trusted source that has grown into a profitable product company. Through this…you get to watch your corner of the web grow exponentially over time at a much faster rate.
Yes…the income generation of the physical product is important and measurable, but the most important aspect of releasing physical products as a blogger is what they do to strengthen your brand presence outside of just your words.
How can you expand past your blog? What are your readers willing to spend their money on outside of your digital products? What do you need to do to make that dream a reality? These are the questions you need to ask yourself as you move forward in your blogging.
Image by Reinante El Pintor de Fuego