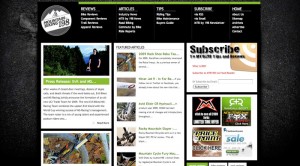 …site design is your means of connecting that content with your readers. You hear the phrase "content is king" over and over again. I don't know about you…but I am sick of hearing it! Yes, if you do not write interesting, useful and engaging content, you will not have consistent readers. That should be a given,  so I am going to step away from that fact for now assuming that you have this kind of content.
You can have the best content on the web, but if you do not make that content easily accessible and wrap it in a package that is appealing to your readers…no one is going to read it or return to your site. How many times have you walked by a poorly packaged item in the grocery store and didn't think twice about picking it up. Why did you not even try this new product that might just be the best thing you have ever tasted? Because right next to it was a supremely marketed, sub par good that caught your eye and kept your attention. Web site development and design is very much the same.
Let's walk through a site redesign…
Recently, Mountain Biking by 198 outgrew its meager beginnings and was in drastic need of a redesign. The old site design worked just fine for the period of time, but with new expansion and a multitude of high end, expensive product coming in for review…the site needed a design that would better fit its needs and the needs of the readers, contributing manufacturers and advertisers.
As with any design project of this scope, I recommend going to an expert in the field. I sat down with Justin Shattuck over at Justtheweb.com and we planned out what the goals of the new site should be as we went forward with the project. Here is the list we came up with. Continue reading Content Is King…But…